Consider a Phantom Self Priming Water Sump Pump for Your Next Project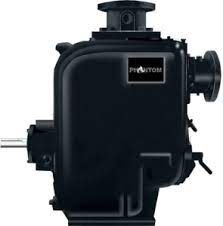 In areas prone to flooding, the value of a reliable water sump pump cannot be overstated. At Phantom Pumps, we know you often need these pumps in a hurry, especially if you're preparing for a disaster or replacing a malfunctioning unit. That's why we utilize a large network of dealers in several states to ship many of our pumps within two days of your order. But of course, a pump's effectiveness is just as important as how quickly you can get it. To guarantee that your water sump pump works properly, we assemble each in the U.S. This ensures that the parts are reliable and that each unit is crafted to the highest quality standards. We also provide a one-year warranty with each pump so you know it's high quality and your investment is protected.
In addition to being well-built, Phantom pumps are popular thanks to their ability to self-prime and remain primed between starts. This feature makes them useful for many industrial applications, including municipal industrial wastewater, irrigation, trash, and even food processing.
The following are just a few of our most popular pumps:
Centrifugal pumps
Submersible sump pumps
Dewatering pumps
If you have questions about the water sump pump you need, don't hesitate to contact us. We'll be happy help you determine what you need in terms of pump size, pressure requirements, and metallurgies.
For more information about Phantom products, or to locate a Phantom Pumps distributor near you, contact us or call 1-888-614-1232. We'll help you place your order, answer your questions, and even assist you with installation and startup.