Types of Centrifugal Pump for Florida, Georgia, Alabama, Ohio, Caribbean, North Carolina, South Carolina & Neighboring States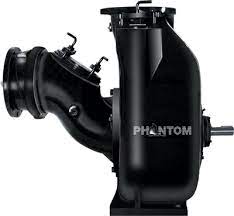 Phantom Pumps is the pump manufacturer that provides cost-effective pump solutions for nearly all types of centrifugal pump industrial applications. The self priming centrifugal pump line from Phantom Pumps includes products manufactured to the highest industry standards, and all of our products are compatible and interchangeable with many centrifugal pumps from name brand pump manufacturers.
Our self priming pumps can accommodate most types of centrifugal pump needs in the following industries and more:
Manufacturing
Construction
Mining
Agriculture
Food and Beverage processing
Waste water treatment
The Phantom Pumps line includes low pressure, high pressure, DPUMP and slurry pump categories. There are 7 centrifugal pump models in the low pressure category and 3 models in the high pressure category, and all of these offer fluid processors an affordable alternative over centrifugal pump equipment from Gorman-Rupp, Durco, All Prime, ESCO Pumps and others. Because they interchangeable, Warman AH Series pumps can be replaced with quality slurry pumps from Phantom Pumps without compromising quality or performance. In fact, our slurry pumps have patented innovative designs, and our pumps and replacement parts show a 700% longer component wear life than other brands, leading to a significant reduction in operating costs.
A self priming centrifugal pump offers several advantages over other centrifugal pump products. A self priming pump is easier to install and maintain, and since Phantom Pumps models are able to process solids up to 3 inches, solid handling is another well-known advantage. In addition, operation of the pump requires less labor because the pump will automatically re-prime after the initial prime.
Phantom Pumps offers unrivaled resources and support to customers and pump users in Florida, Georgia, Alabama, Ohio, Caribbean, North Carolina, South Carolina and neighboring states. Our pump experts and engineers are committed to helping select the types of centrifugal pump equipment that will produce the best results, and we have a global network of expert distributors to assist with equipment start-up and after sale product service and support. Contact us today to learn more about saving on pump related costs at your organization with quality pumps and replacement parts from Phantom Pumps.