Submersible Utility Pump for Florida, Georgia, Alabama, Ohio, Caribbean, North Carolina, South Carolina & Surrounding States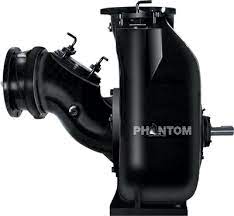 Phantom Pumps has a superb submersible utility pump line of self priming, centrifugal pumps that are perfect for applications in industries such as construction, agriculture, waste water treatment and others. Submersible utility pumps are also used by municipalities and other government agencies for sewage pump operations such as emergency flood water removal and control.
Most utility pumps and other types of submersible pumps have the following characteristics and more:
Designed for submersion in the fluid it is processing or transporting
Motor is airtight and impenetrable to prevent fluids from seeping in
Motor placed together with pump body
Pump is self priming
Easy to install and maintain
Phantom Pumps has pump specialists to assist in pump selection, and our engineers are application experts that can determine which type of submersible utility pump will produce the desired results. A dewatering pump will often be recommended for clear fluids pumping. A submersible sewage pump, trash pump or other type of solid handling pump is usually recommended when fluids contain solids or other substances. Pump specialists and engineers also consider factors such as impeller size, rpm and other specifications to select the best pump for a particular application.
All equipment from Phantom Pumps meets the highest industry standards. Our quality control is exceptional. In fact, we assemble, test and package every submersible utility pump, sewage pump and other pump product in the United States to ensure it meets our strict standards and will perform as specified during processing operations in the metropolitan areas and surrounding cities of Florida, Georgia, Alabama, Ohio, Caribbean, North Carolina, South Carolina and surrounding states. Our pumps are compatible and interchangeable with many well-known pump brands such as ESCO Pumps, Durco, Gorman Rupp and others. Replacing broken or worn out pumps with Phantom Pumps equipment and/or substituting compatible replacement parts for manufacturer parts on pump repair and maintenance services are just a few of the affordable alternative solutions that Phantom Pumps offers companies that are looking to lower pump related expenses. Contact a Phantom Pumps equipment expert today to assist you in finding the cost-effective pump equipment and replacement parts for your needs.