Sewage Pumps for Georgia, Alabama, Mississippi, North Carolina, South Carolina & US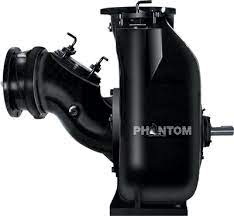 DPUMP brand sewage pumps are ideal for countless industrial applications such as construction site preparation, sewage treatment, agricultural, waste processing and more. The industrial sewage pump and other centrifugal pump equipment in the Phantom Pumps' DPUMP line are always manufactured to the highest industry standards. Phantom Pumps is known throughout the industry as the manufacturer offering fluid processors exceptional pump alternatives to higher cost name brand pumps.
DPUMP sewage pumps are self-priming and meet all ANSI standards. These pumps are easily installed and require little maintenance. All sewage pump models from Phantom Pumps provide unmatched performance and reliability and offer features and benefits such as the following and more:
Back pull-out design allowing easy removal of rotating element
Reverse or open impeller design options
Sewage pumps available with flow-modifier seal that typically eliminates flush lines
Fast impeller clearance setting in shop or on-site
Maintenance time reduced from increased accuracy achieved by micrometer impeller adjustments
Critical shaft surfaces ground to 0.4 micron surface finish ensuring mechanical seal secondary sealing
Our sewage pumps offer the perfect solution for processors who need to replace a broken or worn-out Durco industrial sewage pump. DPUMPS are not only compatible and interchangeable with many Durco models, but they are also more affordable. In fact, our high pressure pumps, low pressure pumps and slurry pumps also have compatible replacements for many models from manufacturers such as Gorman-Rupp, ESCO Pumps, All Prime and Warman.
You never have to worry about finding compatible pumps for your applications in Georgia, Alabama, Mississippi, North Carolina, South Carolina or other states in the United States because we have application engineers on staff to match your fluid processing specifications and requirements with the pumps that will provide exceptional performance and successful results. You can count on your local Phantom Pumps distributor for everything from installation and start-up assistance to after-sale support and service. Contact us today for a cross-reference guide or to request quotes on sewage pumps or any of our other pumps or parts.