Pump Manufacturers for Florida, Georgia, Alabama, Ohio, Caribbean, North Carolina, South Carolina & Surrounding Areas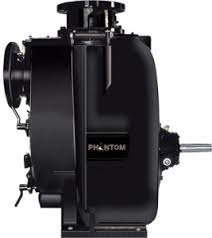 Fluid processing professionals who have seen our centrifugal pumps in action often begin replacing their own equipment from name brand pump manufacturers to a more cost-effective, high quality submersible utility pump, trash pump, irrigation pump and other processing pump from Phantom Pumps.
Phantom Pumps offers a full line of pumps that are assembled, tested and packaged in the United States to ensure quality control. Our pumps are manufactured to the same ANSI standards as the products produced by top manufacturers in the processing industry. In fact, our pumps and replacement parts are compatible with equipment from manufacturers such as Gorman-Rupp, Esco Pumps, All Prime and more. Our pump lines include:
PL Series Low Pressure Pumps
PH Series High Pressure Pumps
D-Pumps
Slurry Pumps
Unlike many pump manufacturers, Phantom Pumps only designs and manufactures self-priming pumps that are easy to install and maintain. After an initial prime, our pumps automatically re-prime, so it's easy to see why these types of pumps reduce overall labor costs.
Many of our pumps are portable, which makes the job easier for emergency response teams when they need to move a submersible utility pump around town to remove flood waters. A portable submersible pump is also useful in mining, construction and waste water applications.
Another way processing companies in Florida, Georgia, Alabama, Ohio, Caribbean, North Carolina, South Carolina and surrounding areas can reduce pump related costs is by using Phantom Pumps parts for repair and maintenance services on their equipment from other pump manufacturers. Our quality replacement parts provide in-house service departments a more affordable alternative to expensive manufacturer parts because ours parts are interchangeable with pumping equipment from many other pump manufacturers. Cross reference sheets and other resources are available on our parts and pump equipment, so contact an experienced and knowledgeable pump specialist from Phantom Pumps today for assistance in matching Phantom Pumps parts to the pump equipment currently in use at your processing facility or job site.