Positive Displacement Pump for Alabama, Mississippi, Texas, Virginia, Maine & Beyond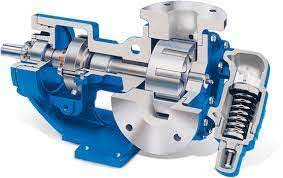 Most pumps fall into either the positive displacement pump category or the centrifugal pump category. PD pumps use a reciprocating or rotating process to build the pressure needed to transport and move liquids, while centrifugal pumps rely on one or more impellers to process fluids. In addition, PD pump equipment is often specified for high viscosity fluids and fluids containing delicate or fragile solid content, and centrifugal equipment is best for water and other thin liquids with solid content no larger than 3-4 inches.
Industrial pumps are used for fluid processing operations in industries such as food and beverage, chemical, petroleum and agriculture. Industrial applications often require a specific type of positive displacement pump or specific centrifugal pumping equipment such as chopper, slurry or turbine pumps. These types of pumps are usually found in both pump categories and include the following and more:
Submersible pump
Irrigation pump
Food and beverage pump
Chemical process pump
Self-priming pump
Phantom Pumps manufactures high-quality, cost-effective pump equipment. Our pump line includes our high pressure pumps, low pressure pumps, DPUMPs and slurry pumps. Our entire line features self-priming pumps that reduce labor costs related to manual pump priming and maintenance. Phantom pumps offer an affordable alternative to more expensive hydraulic pump equipment and other products from leading pump brands including Gorman-Rupp, ESCO, All Prime, Warman and others because our products are compatible and interchangeable with many of the pump models in their pump lines. Better still, our pumps meet or exceed the highest industry standards, and all pumps include warranties.
We have application engineers on staff to help clients select the best hydraulic pump or other centrifugal pump for their processing operations in Alabama, Mississippi, Texas, Virginia, Maine and beyond. Engineers carefully match our pumps to the centrifugal or positive displacement pump specifications at processing facilities to ensure the desired result will always be achieved. Contact us today for more information on our exceptional pumps and services.