Industrial Portable Pumps To Get The Job Done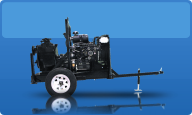 When a situation occurs calling for the use of industrial portable pumps, it's important those pumps are ready to work reliably and effectively. Whether the job at hand is dewatering a flooded work site or dealing with emergency flooding, time is money when it comes to getting the job done quickly and completely.
Versatility and affordability are essential requirements for portable pumps, allowing them to be held at the ready in multiple sites for a variety of functions and needs. When easy installation and maintenance are a part of the package, these industrial pumps provide peace of mind before and after they are deployed. There is no need to get caught unprepared when it comes to having plenty of these portable pumps on hand.
Self-priming pumps also fill special needs, including use in such hard-to-access areas as:
Buried tanks
Treatment processes
Sumps
Tankers
Specialty applications
While powerful self-priming pumps are available for low- and high-pressure applications, it is important to use a knowledgeable professional to help select just the right industrial pump for specific needs. The conditions of service will determine the most cost-effective pump solution to do the job and help minimize maintenance and downtime. Fortunately, there are a wide range of these specialty pumps to accommodate virtually any COS.
You'll find pump specialists ready to ask the right questions and provide correct answers and solid solutions to all pump issues when you contact Phantom Sales Group regarding your industrial portable pump needs.