PL-2 Self Primer Pumps from Phantom Pumps Available Worldwide
The PL-2 self primer pumps from Phantom Pumps are extremely beneficial for both companies and municipalities because they eliminate the need for ejector pumps, vacuums, and foot valves. Our PL-2 self priming pumps are easy to use, require little upkeep, and are completely interchangeable with most other popular brands. Best of all, our customers don't have to worry about paying top-dollar for a top-quality product, as we offer our PL-2 self primer pumps at much more reasonable prices than the competition.

Our selection of low (PL) and high (PH) pressure self priming pumps also includes:
PH-3
PH-4
PH-6
PL-3
PL-4
PL-8
PL-10
PL-12
So whether you need a dewatering pump, irrigation pump, sprinkler pump, or any other self priming pump, Phantom Pumps is here to help. If you're not sure exactly which pump would be best suited for your application, we have a team of expert engineers who will help determine which pump you need and help you find it at the most affordable price.
Please contact us today if you would like more information about our state-of-the-art self primer products or to find a dealer near you. We have distributors in many locations throughout the Southeast and can also ship our pumps anywhere worldwide.
PL-2 Self Primer Pump
Data Sheet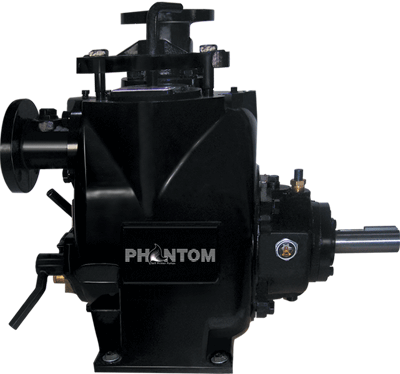 Pump Data
 Net Weight: 203 lbs
 Shipping Weight: 252 lbs
 Impeller Diameter: 6¼ "
 RPM range: 1150 to 2900
 Max. Solids: 1¾ "
Self Priming Head
 1150 rpm: 24' – 1450 rpm: 25'
 1750 rpm: 25' – 2050 rpm: 25'
 2350 rpm: 20' – 2650 rpm: 25'
 2650 rpm: 22' – 2900 rpm: 25'
Check NPSH before using this table

Download Data Sheet
List of all our Self Priming Pumps
 

Pump Data

 Net Weight: 203 lbs

 Shipping Weight: 252 lbs

 Impeller Diameter: 6¼ "

 RPM range: 1150 to 2900

 Max. Solids: 1¾ "

 

Self Priming Head

 1150 rpm: 24' – 1450 rpm: 25'

 1750 rpm: 25' – 2050 rpm: 25'

 2350 rpm: 20' – 2650 rpm: 25'

 2650 rpm: 22' – 2900 rpm: 25'

Check NPSH before using this table

Download Data Sheet

List of all our Self Priming Pumps

MATERIALS OF CONSTRUCTION

COMPONENT

Casting

Impeller

Wear Plate

Cover Plate

Bearing Housing

Seal Plate

Flap Valve

Impeller Shaft

Seal Sleeve

Flanges

O'rings

Mechanical Seal

316SS,BUNA,TUNGS/TITANIUM CARBIDE

316SS, VITON, TUNGS/TITANIUM CARBIDE