Concrete Pump for Florida, Georgia, Louisiana, Texas, Mississippi & Eastern US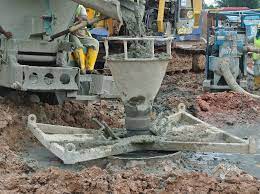 Industrial fluid processors use pumps every day to transport and/or process everything from sparkling spring water and fruit juice to oil, waste water, asphalt and other liquids. The make-up and viscosity of fluid are factors that determine the best type of pump for any particular application. However, most pumps cover many different industrial applications. A concrete pump is one of the few industrial pumps used primarily for one specific category of fluids: mixed aggregate solutions. A concrete pump is a high pressure pump most often used for concrete pouring applications in the construction industry.
Phantom Pumps is a manufacturer of cost-effective centrifugal industrial pumps. Our PH-Series high pressure pump line includes high quality pumps used for industrial fluid processing applications such as the following and more:
Construction Site Dewatering
Pulp and Paper Processing
Power Generation
Our PH-Series line includes models with pressures similar to most any concrete pump on the market. Phantom Pumps self-priming pumps meet and exceed the highest industry standards. We design and manufacture all of our industrial pumps as compatible and interchangeable replacements for higher priced equipment from leading manufacturers such as Gorman-Rupp, Warman, ESCO, Durco and All Prime. We have application engineers on staff at Phantom Pumps to assist processing professionals in selecting which of the pump models in our line will best match their facility and operation specifications and requirements.
Pump replacement parts manufactured by Phantom Pumps are also compatible with many leading pump models. Processing facilities in Florida, Georgia, Louisiana, Texas, Mississippi and states elsewhere in the Eastern US can actually lower repair and maintenance expenses when in-house service technicians substitute our replacement parts on compatible pump repair and maintenance services. Phantom Pumps parts specialists are always happy to provide technicians with cross-reference information for most any type of industrial pump. Contact a courteous and knowledgeable pump specialist at Phantom Pumps today for more information or pump selection assistance.