Centrifugal Trash Pumps from Phantom Pumps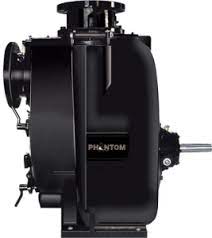 At Phantom Pumps we specialize in both low pressure and high pressure industrial strength centrifugal pumps. We manufacture all of our pumps in the United States in an effort to uphold and improve upon our high performance standards. When a customer buys a Phantom centrifugal pump with the Phantom name printed on it, our company wants them to know that they are getting a durable, well made product at a value that won't break the bank.
Most of our pumps at Phantom Pumps, including our trash pumps, are self-priming pumps. That means that the pumps are fully interchangeable with many popular brands of industrial centrifugal pumps, including Gorman Rupp, and are available in both low pressure models, as well as high pressure model pumps.
Phantom Pumps is a leading distributor in trash pumps and other industrial low pressure and high pressure centrifugal pumps. Contact us so our proud staff can help you determine which of our trash pumps is right for your needs.