Centrifugal Trash Pumps for Virginia, Texas, Michigan, Maine, New Hampshire & Beyond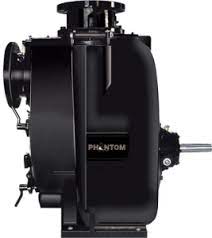 It's always important to choose the right pump for the application. With so many different types of pumps such as centrifugal trash pumps, dewatering pumps, chemical process pumps and more, it's sometimes overwhelming to figure out which type of pump you need.
Phantom Pumps manufactures cost effective, self priming pumps that can cover nearly every industrial need. The application engineers at Phantom Pumps are on hand to help you determine which pumps are best suited for your particular needs. They may suggest our centrifugal pumps if you need a pump that handles solids. Our low pressure and high pressure pumps easily handle solids ranging from 1-1/8 inch to 3 inches, and the centrifugal trash pumps from Phantom Pumps are perfect for applications such as the following and more:
Pulp and paper processing
Construction job sites
Waste processing and water treatment facilities
Agricultural irrigation
Food and beverage processing
Our self-priming pumps are easy to install and maintain. Manual priming after the initial prime isn't needed with our pumps, so labor costs are reduced, and equipment and pump accessory costs are lower because foot values, ejector pumps and other products are not required on self-priming pumps.
Although our pumps are more affordable than name brand pumps, you will not sacrifice on quality or performance. Phantom Pumps are manufactured to meet or exceed industry standards, and each pump is assembled, tested and packaged in the United States. Whether you use chemical process pumps in your operation or dewatering pumps at your construction job site, you can rest assured that our pumps will perform as specified and stand the test of time.
Pumps and replacement parts from Phantom Pumps are compatible and interchangeable with many name brands such as Gorman-Rupp, All-Prime, Warman and others, so if you are looking to save money on repair or replacement of centrifugal trash pumps or other pumps at your facilities in Virginia, Texas, Michigan, Maine, New Hampshire or beyond, contact one of our pump specialists at Phantom Pumps to cross reference your manufacturer pumps or parts with our compatible equipment and replacement parts.