Centrifugal Trash Pump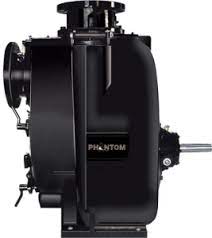 Phantom Sales Group is fast becoming a major manufacturer and supplier of self-priming centrifugal pumps. Phantom manufactures a full line of both low-pressure and high-pressure self-priming pumps suitable for both clean water, such as irrigation, and a centrifugal trash pump line for sludge and trash liquids, such as animal waste and trash.
Phantom's desire is to provide you with a very high quality self-priming pump to suit your own distinctive requirements at a very reasonable price. The materials are top of the line and ensure you with a long and profitable service life. If replacement parts are required, they are available from our own warehouse or those of our distributors.
Phantom's centrifugal pumps work equally well, whether operated by electric motors or internal combustion engines.
 Available in low-pressure sizes from 2″ to 12″
 Available in high-pressure sizes of 3″, 4″, or 6″
 Made from the best materials
 Shipped world-wide
Whatever your need for a centrifugal trash pump or other self-priming pumps, the staff at Phantom Sales Group is ready and willing to go the extra mile to help you select the best Phantom Pump for your needs. Contact us today to learn more.