Centrifugal Trash Pump for Florida, Georgia, Alabama, South Carolina, North Carolina & Surrounding States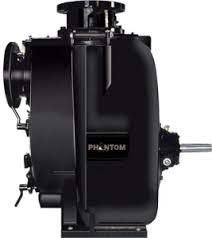 Phantom Pumps centrifugal trash pump models are ideal for organizations that require exceptional quality trash pumps to efficiently handle fluids heavy laden with solids. We manufacturer self-priming, centrifugal pumps that meet and exceed the highest industry standards, and we're renowned in the industry for designing centrifugal trash pump and other industrial pump equipment as compatible, cost-effective alternatives to higher cost pumps produced by leading manufacturers in the industry.
Our submersible trash pumps are used daily in industrial applications such as mining, flood control, waste water treatment, oil and gas processing, construction site dewatering and more. Specifications on our trash pumps include the following and more:
Self priming heads capacities from 5' to 25'
Casing materials include A48CL30, ADI, 316SS and CD4MCU
Impeller diameters range from 6-3/4" to 18"
Maximum solid handling from 1-1/4" to 3"
316SS, Buna, Tungs/Titanium Carbide or Viton mechanical seal materials of construction
Our PL Series and PH Series pumps are interchangeable and compatible with many trash pumps manufactured by Durco, Gorman-Rupp, All Prime and others. Fluid processing organizations throughout the country have learned they can reduce equipment related costs at their facilities without sacrificing performance by replacing worn out and broken name-brand pumps with our high-quality Phantom Pumps products. In fact, many processors report an increase in their production capabilities after installing our pumps.
Phantom Pumps centrifugal trash pump replacement parts are also used by processing facility service departments in Florida, Georgia, Alabama, South Carolina, North Carolina and the surrounding states to lower their repair and maintenance costs. Service technicians use our parts to repair and maintain our Phantom Pumps products as well as other name-brand, compatible pumps on the market today. Our pump experts and distributors are always available to cross-reference our pumps and parts with your existing equipment. Contact us today to learn more about our quality pump line and how we can help you lower your operating costs.