Big Black Pump for Florida, Georgia, Alabama, Ohio, North Carolina, South Carolina & Beyond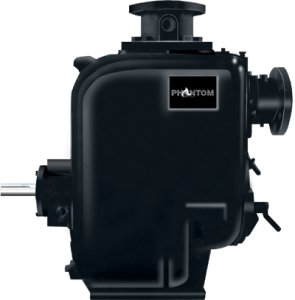 Fluid processing professionals using a big black pump from Phantom Pumps typically report reduced pump related costs. Phantom Pumps is the manufacturer of superior quality centrifugal pumps that are compatible and interchangeable with many of the more costly pump models manufactured by Gorman-Rupp, All Prime, Durco, ESCO Pumps and Warman. Corrosion resistant pump models in our line are always manufactured to the highest industry standards, and they are assembled, tested and packaged in the United States for quality assurance.
Standard and optional materials of construction on the big black pump models in the Phantom Pumps PL-Series Low Pressure Pump Line and PH-Series High Pressure Pump Line include the following and more:
A48CL30, ADI, 316SS and CD4MCU casings, cover plates, bearing housings and flanges
Neoprene and Viton flap valves
ANSI4140HT and ANSI117-4PH impeller shafts and seal sleeves
Buna and Viton O-rings
Tungs/Titanium Carbide, Buna, Viton and 31622 mechanical seals
Our PL-Series pumps with impeller diameters from 6-1/4" to 18", RPM ranges from 650 to 2900, heads from 5' to 25' and maximum solids of up to 3" are ideal for construction site dewatering, sewage treatment and countless other industrial applications. And, PL-Series corrosion resistant pump equipment is interchangeable with most Gorman-Rupp T-Series, ESCO Pumps LP-Series and All Prime S-Series models. Our application engineers at Phantom Pumps are available to match pumps in our line to processing needs and requirements to ensure successful processing performance and results are always achieved.
Equipment costs are lower for organizations in Florida, Georgia, Alabama, Ohio, North Carolina, South Carolina and beyond when they use a Phantom Pumps big black pump at new facilities or replace worn out or broken name brand pumps at existing facilities with compatible Phantom Pumps models. Operational expenses are also usually reduced when in-house service technicians use our interchangeable replacement parts for compatible pump repair and maintenance services. Cross reference assistance is available from our pump specialists and local distributors. Contact us today to learn more about lowering pump related costs at your processing facility.