Big Black Pump in Colorado, New Hampshire, New Mexico, Tennessee, Texas & Throughout the US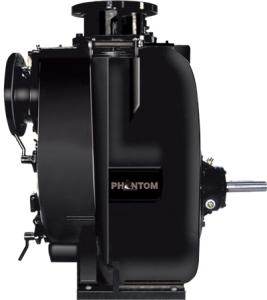 No fluid processing facility can prosper without a big black pump transporting their raw material and final products properly through the plant. At Phantom Pumps, we offer you with the high-quality fluid processing equipment you need in your facility and provide top-rated customer service.
One of our specialties is our centrifugal pump, which meets and exceeds industry standards. Available in low and high pressure models, this pump converts rotational energy into pumping power to increase your fluid flow and efficiency. Each pump comes with an engine or motor that moves the fluid through the impeller. Then, the rotating axis accelerates the fluid and flows it outward into a diffuser before exiting. Many industries utilize our centrifugal pump for their facilities, including, water treatment facilities, petrochemical pumping operations, sewage processing facilities, agricultural areas, and petroleum processing plants.
Centrifugal pump models provide many unique benefits for processing facilities such as a high-flow rate, natural mixing, compatibility with abrasive solutions, and simple, effective designs. Our low pressure and high pressure pumps use parts that are fine-tuned by professional engineers to ensure that your fluids flow smoothly and your pumps don't break down.
After years of continuous use, a big black pump may encounter a few issues from time to time. We provide high-quality maintenance and repair services on all of our pumps and parts to keep them running smoothly and efficiently for years. Other services that we provide for your facility include:
Installation assistance for all Phantom Pumps products
Pump package solutions
Custom, turnkey pump systems
Part selection assistance for in house maintenance and repairs
Phantom Pumps has a diverse product line to better serve your needs. You can find drives, gearboxes, motors, valves, and shafts that are compatible with the pumps currently in use in your facility. Better still, by substituting Phantom Pumps products for genuine manufacturer parts, you can significantly reduce your costs.
We serve countless facilities in Colorado, New Hampshire, New Mexico, Tennessee, Texas and throughout the US. If you are in need of a new big black pump for your operations, contact us today for pump selection assistance. Once we understand your current operation requirements, we can recommend the best compatible pump for your needs.