The PL-12 Self Prime Pump – Available Worldwide from Phantom Pumps
The PL-12 self prime pump from Phantom Pumps is suited for a wide variety of applications, including industrial, wastewater treatment, shallow well pumps, fire departments, industrial effluents treatment and more. This pump is able to fill so many needs because of its ability to fit many flow and pressure specifications and configure to both high and low pressure settings. So, whether you need a submersible backup sump pump for a mining operation or a dewatering pump for a construction site, the PL-12 is the product for you.
The PL-12 isn't the only self priming pump offered by Phantom Pumps. We also have:
PH-3
PH-4
PH-6
PL-2
PL-3
PL-4
PL-6
PL-8
PL-10
All of our self priming pumps are interchangeable with other reputable brands like Gorman-Rupp and others, so our customers can rest assured that they will receive an expertly crafted product that will make maintenance and repairs exceptionally simple and cost effective.
For additional information about the PL-12 self prime pump or other products, please call or e-mail Phantom Pumps today. We have distributors located throughout the Southeastern US and can ship our products anywhere worldwide.
PL-12 Self Primer Pump
Data Sheet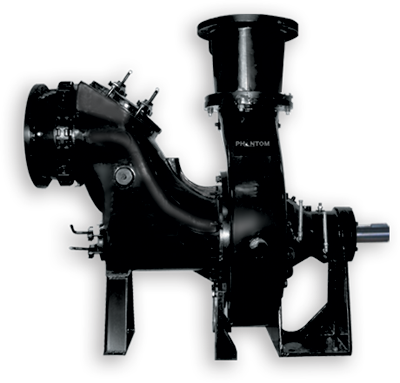 Pump Data
 Net Weight: 
2200
 lbs
 Shipping Weight: 
2350
 lbs
 Impeller Diameter: 18"
 RPM range: 650 to 1250
 Max. Solids: 
3
 "
Self Priming Head
650 rpm: 5' – 750 rpm: 9'
850 rpm: 13' – 950 rpm: 15'
1050 rpm: 16' – 1150 rpm: 16'
1250 rpm: 16'
Check NPSH before using this table


Download Data Sheet
List of all our Self Priming Pumps
 

Pump Data

 Net Weight: 

2200

 lbs

 Shipping Weight: 

2350

 lbs

 Impeller Diameter: 18"

 RPM range: 650 to 1250

 Max. Solids: 

3

 "

Self Priming Head

650 rpm: 5' – 750 rpm: 9'
850 rpm: 13' – 950 rpm: 15'
1050 rpm: 16' – 1150 rpm: 16'
1250 rpm: 16'
Check NPSH before using this table
Download Data Sheet
List of all our Self Priming Pumps

MATERIALS OF CONSTRUCTION

COMPONENT

Casting

Impeller

Wear Plate

Cover Plate

Bearing Housing

Seal Plate

Flap Valve

Impeller Shaft

Seal Sleeve

Flanges

O'rings

Mechanical Seal

316SS,BUNA,TUNGS/TITANIUM CARBIDE

316SS, VITON, TUNGS/TITANIUM CARBIDE