Sump Pumps from Phantom Pumps are Easy to Install and Require Little Maintenance
If you're searching for sump pumps, look no further than the PL-10 self primer pump from Phantom Pumps. These first-rate pumps play an integral role in keeping flood zones safe and dry. Every one of our PL-10 self priming sump pumps is assembled and packaged right here in the USA to ensure the highest-quality standards are met. Plus, because we have a wide network of distributorships located in more than a dozen states, we generally ship these pumps within two days after an order is placed.

The PL-10 isn't the only new sump pump Phantom Pumps has to offer. We also carry the:
PL-2
PL-3
PL-4
PL-6
PL-8
PL-12
PH-3
PH-4
PH-6
So, whether you need self primer pumps, centrifugal pumps, or a submersible sump pump, you can always rely on Phantom Pumps. If you aren't sure exactly which pump would be best for your specific application, you've come to the right place. Our friendly and knowledgeable technicians can help determine which pump is ideal for you once we analyze your conditions of service (COS).
For more information about our sump pumps, please call or e-mail Phantom Pumps today.
PL-10 Self Primer Pump
Data Sheet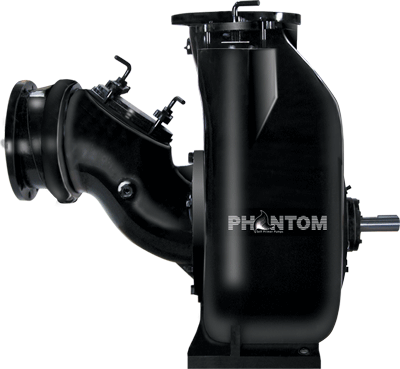 Pump Data
Net Weight:
1400
lbs
Shipping Weight:
1461
lbs
Impeller Diameter: 14¾"
RPM range: 650 to 1250
Max. Solids:
3
"
Self Priming Head
650 rpm: 7' – 750 rpm: 11'
850 rpm: 14' – 950 rpm: 17'
1050 rpm: 18' – 1150 rpm: 18'
1250 rpm: 19' – 1350 rpm: 22'
1450 rpm: 22'
Check NPSH before using this table

Download Data Sheet
List of all our Self Priming Pumps

 

Pump Data

 Net Weight: 

1400

 lbs

 Shipping Weight: 

1461

 lbs

 Impeller Diameter: 14¾"

 RPM range: 650 to 1250

 Max. Solids: 

3

 "

Self Priming Head

650 rpm: 7' – 750 rpm: 11'
850 rpm: 14' – 950 rpm: 17'
1050 rpm: 18' – 1150 rpm: 18'
1250 rpm: 19' – 1350 rpm: 22'
1450 rpm: 22'
Check NPSH before using this table

Download Data Sheet

List of all our Self Priming Pumps
MATERIALS OF CONSTRUCTION

COMPONENT

Casting

Impeller

Wear Plate

Cover Plate

Bearing Housing

Seal Plate

Flap Valve

Impeller Shaft

Seal Sleeve

Flanges

O'rings

Mechanical Seal

316SS,BUNA,TUNGS/TITANIUM CARBIDE

316SS, VITON, TUNGS/TITANIUM CARBIDE