Irrigation Pumps from Phantom Pumps – The PH-4 Self Primer Pump
At Phantom Pumps, our irrigation pumps can be expertly crafted to suit a variety of needs. So, whether you need an pump for irrigation that will perform well when it's submerged in water, a low-flow pump, or any other type, you've come to the right place. All of these pumps are self priming in order to provide more speed and convenience, and they're available at an extremely affordable cost.

Along with irrigation pumps, Phantom Pumps offers a wide variety of other products, including:
Dewatering pumps
Sump pumps
Trash pumps
Shallow well pumps
If you aren't sure exactly which pump would be best suited for your application, our team of highly trained experts is standing by ready to assist you every step of the way. After they analyze your conditions of service (COS), our technicians will be able to determine which one of our high-quality products will meet all your needs.
For more information about our irrigation pumps, please call or e-mail Phantom Pumps today. We have distributors located in more than a dozen states, and we can usually ship our products within 2 days after an order has been placed.
PH-4 Self Primer Pump
Data Sheet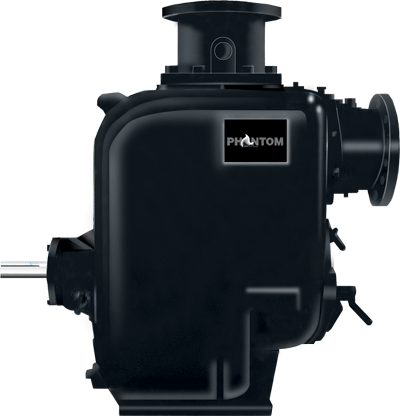 Pump Data
Net Weight:
600
lbs
Shipping Weight:
655
lbs
Impeller Diameter:
11
"
RPM range: 850 to 2150
Max. Solids:
1
1/8
"
Self Priming Head
850 rpm: 8' – 1150 rpm: 10'
1450 rpm: 12' – 1750 rpm: 13'
1950 rpm: 15' – 2150 rpm: 17'
Check NPSH before using this table

Download Data Sheet
List of all our Self Priming Pumps

 

Pump Data

 Net Weight: 

600

 lbs

 Shipping Weight: 

655

 lbs

 Impeller Diameter: 

11

"

 RPM range: 850 to 2150

 Max. Solids:

 

1 

1/8

"

Self Priming Head

850 rpm: 8' – 1150 rpm: 10'
1450 rpm: 12' – 1750 rpm: 13'
1950 rpm: 15' – 2150 rpm: 17'

Check NPSH before using this table

Download Data Sheet

List of all our Self Priming Pumps
MATERIALS OF CONSTRUCTION

COMPONENT

STD

CI/316SS

CI/CD4MCU

CI/ADI

CI/HCI

ADI

316SS

CD4MCU

Casting

A48CL30

ADI

316SS

CD4MCU

Impeller

A60-40-18

316SS

CD4MCU

ADI

HCI

ADI

316SS

CD4MCU

Wear Plate

A48CL30

316SS

CD4MCU

ADI

HCI

ADI

316SS

CD4MCU

Cover Plate

A48CL30

ADI

316SS

CD4MCU

Bearing Housing

A48CL30

ADI

316SS

CD4MCU

Seal Plate

A48CL30

316SS

CD4MCU

ADI

HCI

ADI

316SS

CD4MCU

Flap Valve

NEOPRENE

VITON

Impeller Shaft

ANSI4140HT

ANSI17-4PH

Seal Sleeve

ANSI4140HT

ANSI17-4PH

Flanges

A48CL30

ADI

316SS

CD4MCU

O'rings

BUNA

VITON

Mechanical Seal

316SS,BUNA,TUNGS/TITANIUM CARBIDE

316SS, VITON, TUNGS/TITANIUM CARBIDE