If You Need a Backup Sump Pump, Consider the PH-3 from Phantom Pumps
The PH-3 backup sump pump from Phantom Pumps is an essential product if you wish to keep flood-prone areas dry and safe. As a self-prime pump, the PH-3 is able to stay primed between starts, meaning it can work in a wide variety of applications, including food processing, wastewater treatment, mining operations, and fire departments. Plus, we back our sump pumps with a one-year warranty and expertly assemble everyone in the USA.

Along with the PH-3, we carry many other water sump pumps, including:
PH-6
PH-3
PL-12
PL-10
PL-8
PL-6
PL-4
PL-3
PL-2
All of our self priming pumps come in our distinctive jet black color with the Phantom name proudly displayed, so you know you're getting the high quality pump you expect. We also have a team of friendly and knowledgeable technicians standing by to assist you if you aren't sure which sump pump would best fit your needs.
Please call or e-mail Phantom Pumps today for more information about our back sump pump models. Our large distributorship spans more than a dozen states, so you're virtually certain to receive your pump within two days after ordering. We can also ship our products anywhere across the globe.
PH-3 Self Primer Pump
Data Sheet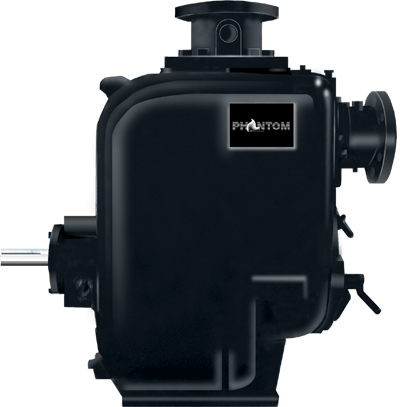 Pump Data
Net Weight:
472
lbs
Shipping Weight:
497
lbs
Impeller Diameter:
11
"
RPM range: 850 to 2150
Max. Solids:
1 3/16"
Self Priming Head
850 rpm: 7' – 1150 rpm: 9'
1450 rpm: 15' – 1750 rpm: 25'
1950 rpm: 25' – 2150 rpm: 25'
Check NPSH before using this table

Download Data Sheet
List of all our Self Priming Pumps

 

Pump Data

 Net Weight: 

472

 lbs

 Shipping Weight: 

497

 lbs

 Impeller Diameter: 

11

"

 RPM range: 850 to 2150

 Max. Solids:

 

1 3/16"

Self Priming Head

850 rpm: 7' – 1150 rpm: 9'
1450 rpm: 15' – 1750 rpm: 25'
1950 rpm: 25' – 2150 rpm: 25'

Check NPSH before using this table

Download Data Sheet

List of all our Self Priming Pumps
MATERIALS OF CONSTRUCTION

COMPONENT

STD

CI/316SS

CI/CD4MCU

CI/ADI

CI/HCI

ADI

316SS

CD4MCU

Casting

A48CL30

ADI

316SS

CD4MCU

Impeller

A60-40-18

316SS

CD4MCU

ADI

HCI

ADI

316SS

CD4MCU

Wear Plate

A48CL30

316SS

CD4MCU

ADI

HCI

ADI

316SS

CD4MCU

Cover Plate

A48CL30

ADI

316SS

CD4MCU

Bearing Housing

A48CL30

ADI

316SS

CD4MCU

Seal Plate

A48CL30

316SS

CD4MCU

ADI

HCI

ADI

316SS

CD4MCU

Flap Valve

NEOPRENE

VITON

Impeller Shaft

ANSI4140HT

ANSI17-4PH

Seal Sleeve

ANSI4140HT

ANSI17-4PH

Flanges

A48CL30

ADI

316SS

CD4MCU

O'rings

BUNA

VITON

Mechanical Seal

316SS,BUNA,TUNGS/TITANIUM CARBIDE

316SS, VITON, TUNGS/TITANIUM CARBIDE